You've probably seen them on feet around town, usually beneath some bare ankle and a well-cuffed pair of chinos. Yes, it's the humble loafer, the comfiest, most versatile smart-casual men's shoe going around. Loafers have been having a real resurgence lately, arguably overtaking their laced-up cousins, the Oxford and the Derby. Partly that's down to comfort, being a slip-on shoe, but it's also thanks to the loafer's ability to look good in almost any situation. Jeans, chinos, suit pants, cotton shorts, whatever.

But what makes a loafer? And how should you wear them? Loafers for men are a pretty broad category, so let's break down some of the common styles.
There are a few characteristics of the traditional loafer. First, no laces. Loafers are slip-on shoes, designed to slide on and off your feet, which makes them extra comfy. Loafers are also low rise. They feature a slim-profile heel and leather upper, and you should wear them without socks (or, ideally, with invisible ankle socks). There are penny loafers, with their trademark 'saddle' across the vamp, tassel loafers, horsebit loafers and kiltie loafers. They all look slightly different, but they're all part of the loafer family.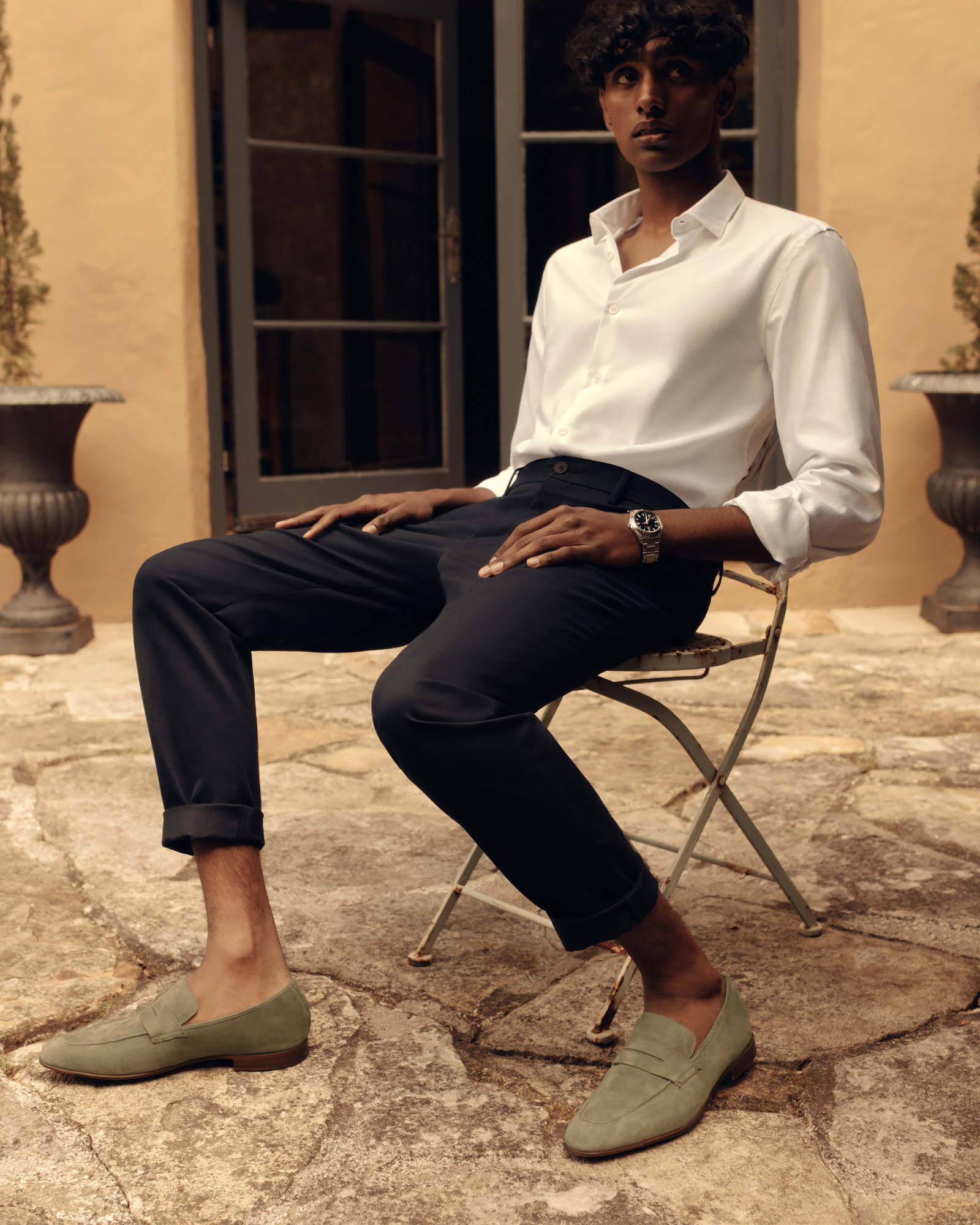 Where did loafers come from?
Men's loafers have a few origin stories. In the early 20th century, British designers were pumping out loafer-ish shoes for the English gentry. On the other side of the Atlantic, Norwegian shoe maker Nils Gregoriusson Tveranger combined traditional Native American moccasins with Norwegian fishing shoes to create the first official penny loafer, which became hugely popular with American college students (who use to keep pennies in the vamp, hence the name). For the next 100 years, loafers evolved into a men's shoe staple. They really hit the cultural mainstream about ten years ago.
How to style men's loafers
Loafer shoes are generally considered 'smart casual', but they're perfect for 'cocktail', 'semi formal' or 'business casual' events, too. You probably wouldn't wear loafers with black tie, but that's really the only limit. With everything else in your wardrobe, loafers work brilliantly. Match them with slim-fit denim and a sharp double cuff, or a simple pair of beige chinos. Loafers and shorts are also a classic combination: just pair some brown penny loafers with navy cotton shorts and a linen shirt. Many loafer styles can even be worn under suit pants. Try black, patent leather loafers with fitted slacks, a knit blazer and a crisp button-down shirt.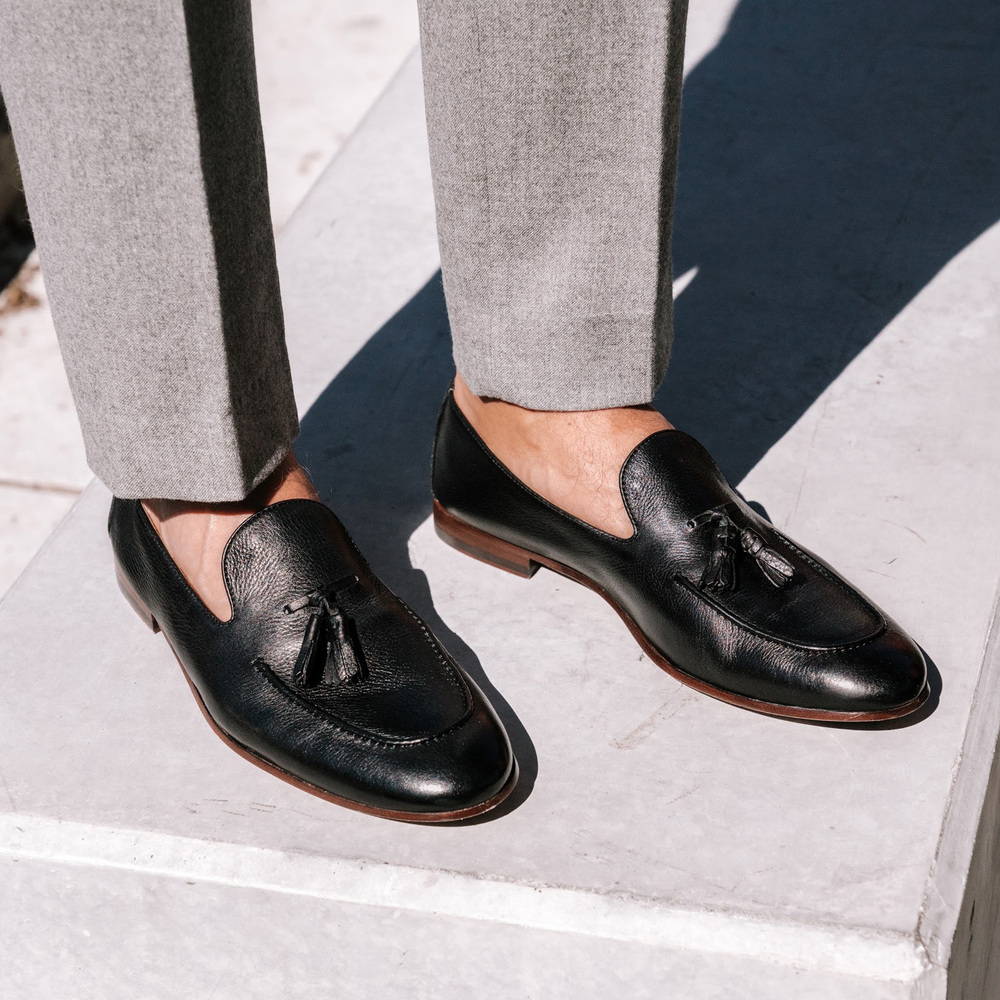 Loafers really shouldn't be worn with traditional crew socks or long business socks. It spoils the low-rise vibe. Men's loafers are designed to show off your ankle. The best thing you can do is invest in a few pairs of invisible ankle socks (AKA sockettes). They'll keep your feet clean and warm, cut down on odor, protect the leather and look sharp, all at the same time.
---
Penny loafers are probably what most people think of when they picture 'loafers'. They're an iconic style that's remained more-or-less unchanged for nearly 100 years. Penny loafers are characterized by a decorative strip of leather across the vamp, also known as a 'saddle'. This strip usually has a small cut out in the middle. You can wear penny loafers underneath a suit, chinos, shorts and jeans (go for straight cut or slim leg, nothing too skinny or too wide). They're arguably the most versatile men's loafer.
Tassel loafers have the same shape as penny loafers, with that iconic low rise and slim-profile heel. But instead of a 'saddle' across the vamp, they feature a small leather tassel, which dangles over the front of the shoe. Tassel loafers are obviously a bit more playful, packed with personality. We recommend experimenting with colour here. Some green, oxblood or blue tassel loafers can make a fun semi-formal event shoe. Just throw them under cuffed chinos, a button-up shirt and a casual jacket.
Suede loafers are also more on the casual end of the loafer spectrum, and they're a great way to add some texture to your outfit. Some sky blue suede penny loafers would look great underneath tonal navy chinos and a contrast blazer. If you're going down the suede loafer route, just remember to waterproof your shoes before the first wear, and keep the rain off them as much as possible. We've written a good suede guide over here, if you're interested. Look after your suede loafers, and they'll look after you.
---