Choosing the right men's bag comes down to practicality and style. Ideally, you don't want to sacrifice either of these. Your bag should look good and carry all your stuff at the same time. We've already written about how to find the perfect bag for you, but today we're going to tackle styling. Nothing brings an outfit crashing down around your ankles like the wrong bag. Beaten up canvas backpack with a suit? Nightmare. Leather briefcase with thongs and shorts? Super weird (and kind of suspicious).
Here's how to match your men's bag with different outfits.
The evolution of bag style
For most of the 20th century, professional men carried leather briefcases and that was that. Satchels and over-the-shoulder bags were more of a feminine style symbol (see: Joey's 'man bag' episode on Friends for further context). Backpacks were for schoolkids or mountaineers. But men's bags have definitely evolved over the last decade. Backpacks came back into vogue in the 2010s, ushering in a new wave of men's casual bags. Now you can wear a bag with almost any outfit. The trick is in the details.
Not all briefcases are created equal, and they tend to come in two speeds. Structured and unstructured. For rectangular, hard-shell leather briefcases, you should really stick to a suit. Try to match the leather of your briefcase, too. That means brown Oxfords with a brown briefcase, and the same with black. Round-shouldered, soft leather briefcases are a little more casual. You could totally pair one of these with some suiting separates – maybe a knit blazer, chinos and Derbies – or a smart casual outfit. Try our MONTORO briefcase with khaki chinos, ecru leather sneakers, and a button-up shirt. It has a strap, too, if you'd rather wear it over your shoulder. The only fashion crime to watch out for here is shorts. Shorts and a briefcase do not mix.
---
The messenger bag or satchel has quickly become most guys' favourite utility piece. It's just so versatile. Dress it up with a two-piece suit (again, just make sure to match your leather accessories carefully) or all the way down to jeans and sneakers. It's hard to make a mistake with the messenger. They're great for university, work, commuting, or just sitting in a café with your laptop. When it comes to style, try a brown leather satchel with dark cuffed jeans, Chelsea boots and a khaki overcoat. Or maybe tan chinos, Chukka boots and a business shirt – that's a great office-casual outfit right there. Remember: canvas messenger bags will give off casual vibes. Leather messengers are a little more flexible. They can swing either way.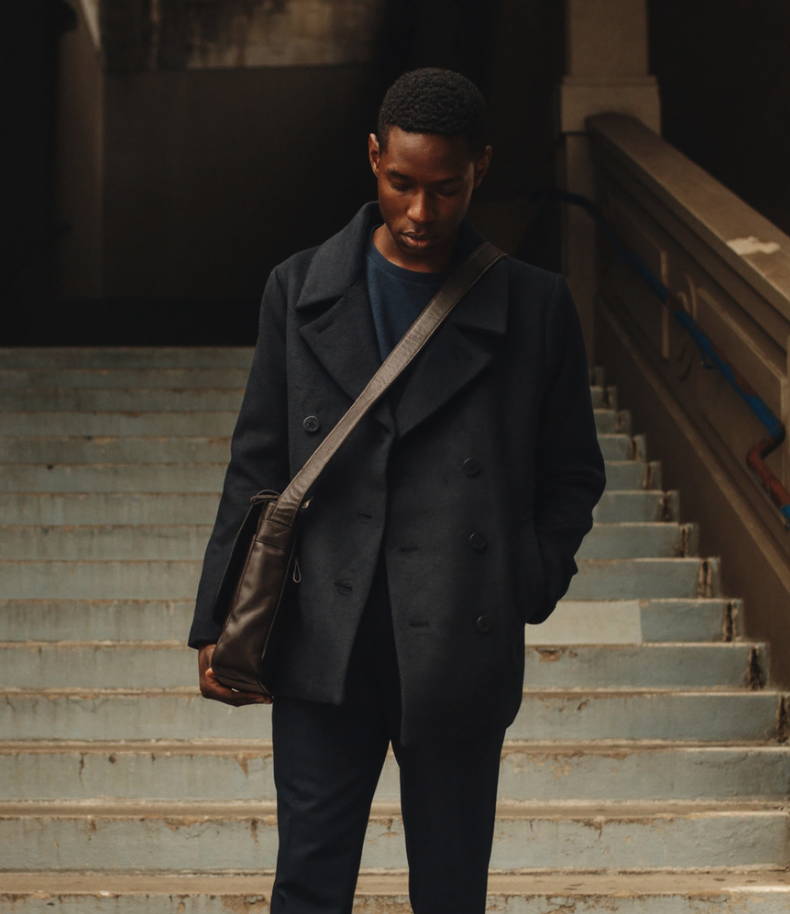 Backpacks are almost entirely dependent on material. Good quality leather backpacks work well with suits, but not casual outfits. Canvas or nylon backpacks are perfect for weekends, but should never be worn with a suit. Ideally, get one of both; that way you've got a backpack for every occasion. For formal backpacks, stick to something like our tumbled leather MONTORO, preferably in black. That will match nicely with black, grey or navy suits. Wear it single strap, over one shoulder (double strapping with a suit looks a bit odd). Canvas backpacks are much more weekend-friendly. We like these in winter with wool trench coats, casual jackets, crew knits and big chunky military boots.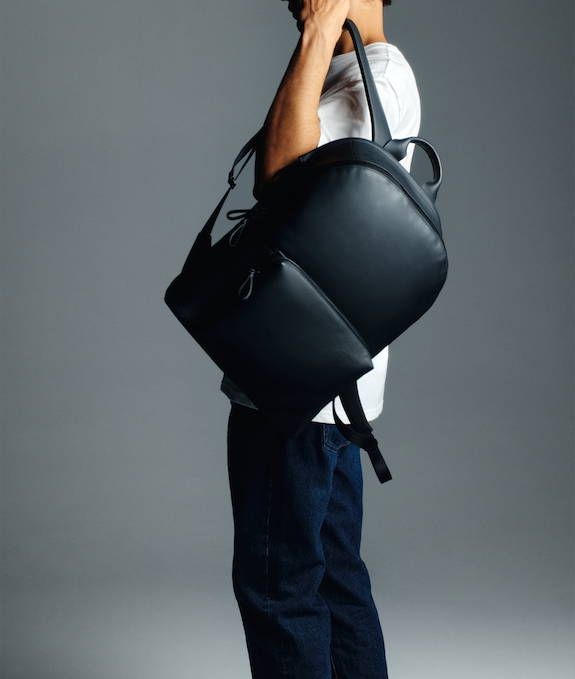 Laptop bags are kind of a catch-all category. They cover briefcases, satchels and folio bags, and some of the same rules apply. A thin laptop folio like the MONTORO is perfect for everyday office wear. With its slim profile, you can carry it alongside a suit or a button-up shirt and chinos. This is where you can splash out on colour, too. Since laptop bags aren't usually your commuter bag – a lot of guys like to keep one in the office for meetings or working on-the-go – it doesn't have to match your outfit exactly. Olive green makes a nice change from traditional brown or black leather.
Cross body bags are a little like messenger satchels, but with a more upright shape. These might be too small for laptops, but they're perfect for roadtrips or general travelling. So how do you wear a cross body bag? It depends a little on the size and material of the bag, but generally you want to wear these diagonally across your torso (the clue's in the name). They work best when combined with layers. Try a leather cross body bag over a trucker jacket and jeans, or maybe a camel wool trench coat. Match the leather with your shoes, too. We recommend suede Chukkas, leather Chelsea boots, or military boots.