Never say we don't answer the big questions here at Aquila. Loafers and socks. Is it ever okay? The short answer is…it depends. Socks with loafers have become kind of a controversial style choice. Some guys swear by socks, others reckon they look terrible. Like everything else, it usually comes down to the overall outfit and accessories.
The reason loafers and socks are tricky is that loafers have a much lower, cleaner profile than your standard Oxford or Derby. They're minimal and dressy by nature, and sometimes socks can spoil that toned-down look. One thing's for sure: if you're going to rock socks and loafers, they have to be the right socks. Wooly mountaineering socks do not belong anywhere near your loafers. You want thin cotton or wool and a muted no-nonsense shade, like black or navy. Now is not the time for crazy pink flamingoes.
So, can you wear socks with loafers?
There are certain situations where socks and loafers make a lot of sense. Suits being the big one. Most guys don't have the confidence to flash their naked ankles around the office, and there's nothing wrong with some good quality socks between your loafers and your suit. Make sure you pick a shade that matches both the leather and the fabric (plain-old black or navy socks will rarely steer you wrong). Styles like the PENLEY and FERNANDO are a good place to start, but for more formal occasions, you probably want some black patent leather loafers, like the ASCOTT. These are high-shine, dinner-with-the-Queen loafers, and they should always be worn with socks. In fact, here's a good rule: if you're wearing loafers to any event where caviar is being served, socks are probably the way to go.
Loafers without socks has become arguably the default way to wear them. Especially when it comes to jeans and chinos. This is the look you see in all the magazines: guys lounging around in pin-rolled pants, penny loafers and bare ankles. The good news is, this look doesn't take much effort or skill. All you have to do is pick some smart-casual loafers, like the FERNANDO, ALBERTO or MORANT, and throw them under jeans or chinos with a nice, high hem (the pants should rest just above your ankle). The other big one is shorts. Loafers and shorts never, ever require a sock. Socks and shorts in general give off serious old man, retirement village vibes (the exception being crew socks and athleisure gear, which is totally fine). The beauty of the loafer is simplicity: embrace that low, sleek silhouette and ditch the socks. You'll feel better for it.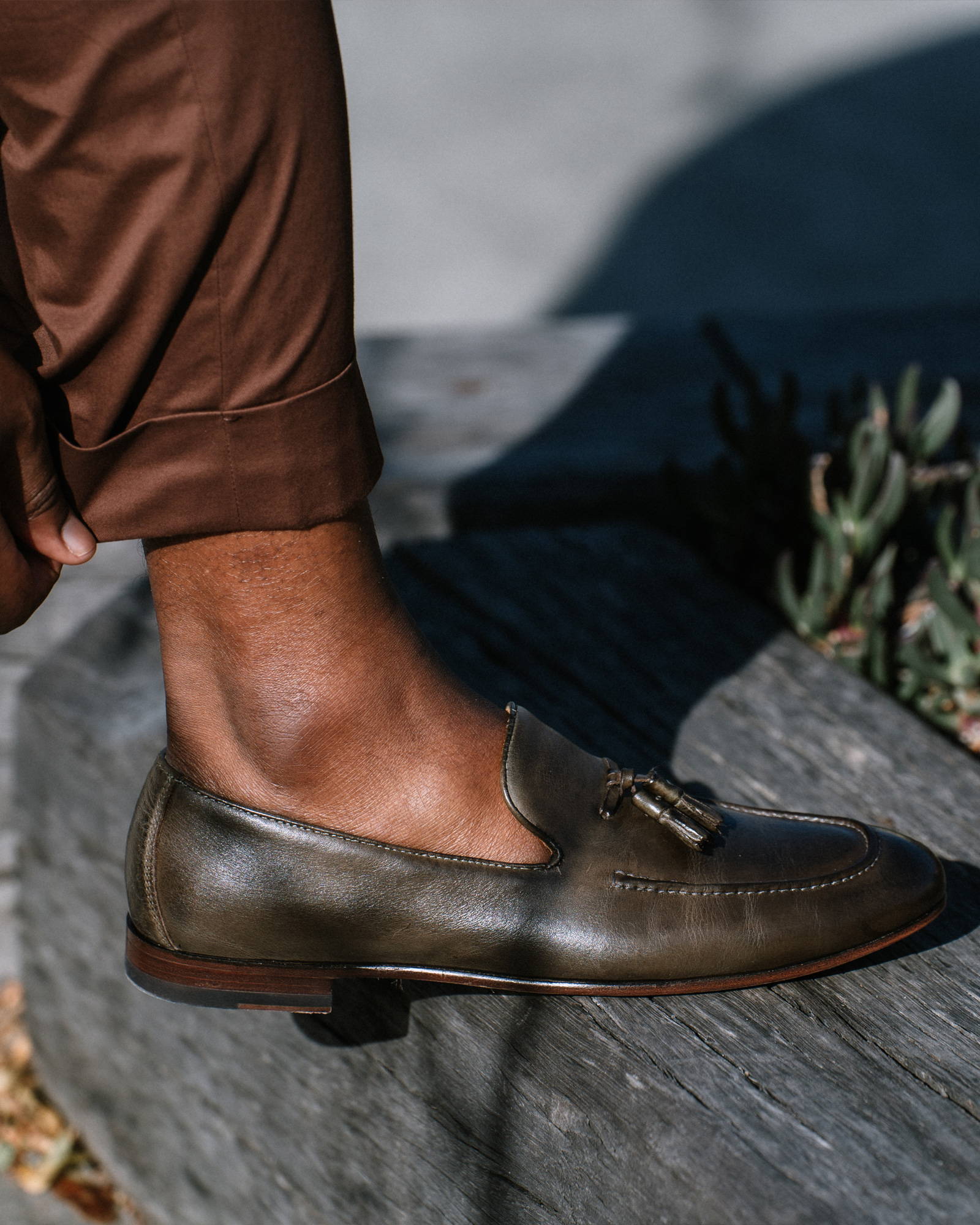 Ankle socks (also known as 'invisible socks' or 'sockettes') are sort of the compromise position in the socks-versus-no-socks loafer debate. Some sock-less loafer fans wear them just for hygiene's sake (it can get sweaty in full leather shoes). The beauty of these is that no-one will know you're wearing them. The socks should, ideally, end below the heel of the loafer. That's what makes them invisible. You can embrace the sock-less loafer trend, flash your ankles all over town, and still keep your feet dry and warm. Our SETH socks are the way to go here – they come in a grey and navy twin pack.
So, should you wear socks with loafers? Think about socks like pocket squares: they're not for everyone, but some guys prefer them. At the end of the day, you should wear whatever makes you feel comfortable. Let you ankles fly free, or cover them up. It's totally up to you.